Voice Search in Digital Commerce. Let's dive into Future of eCommerce Shopping Cart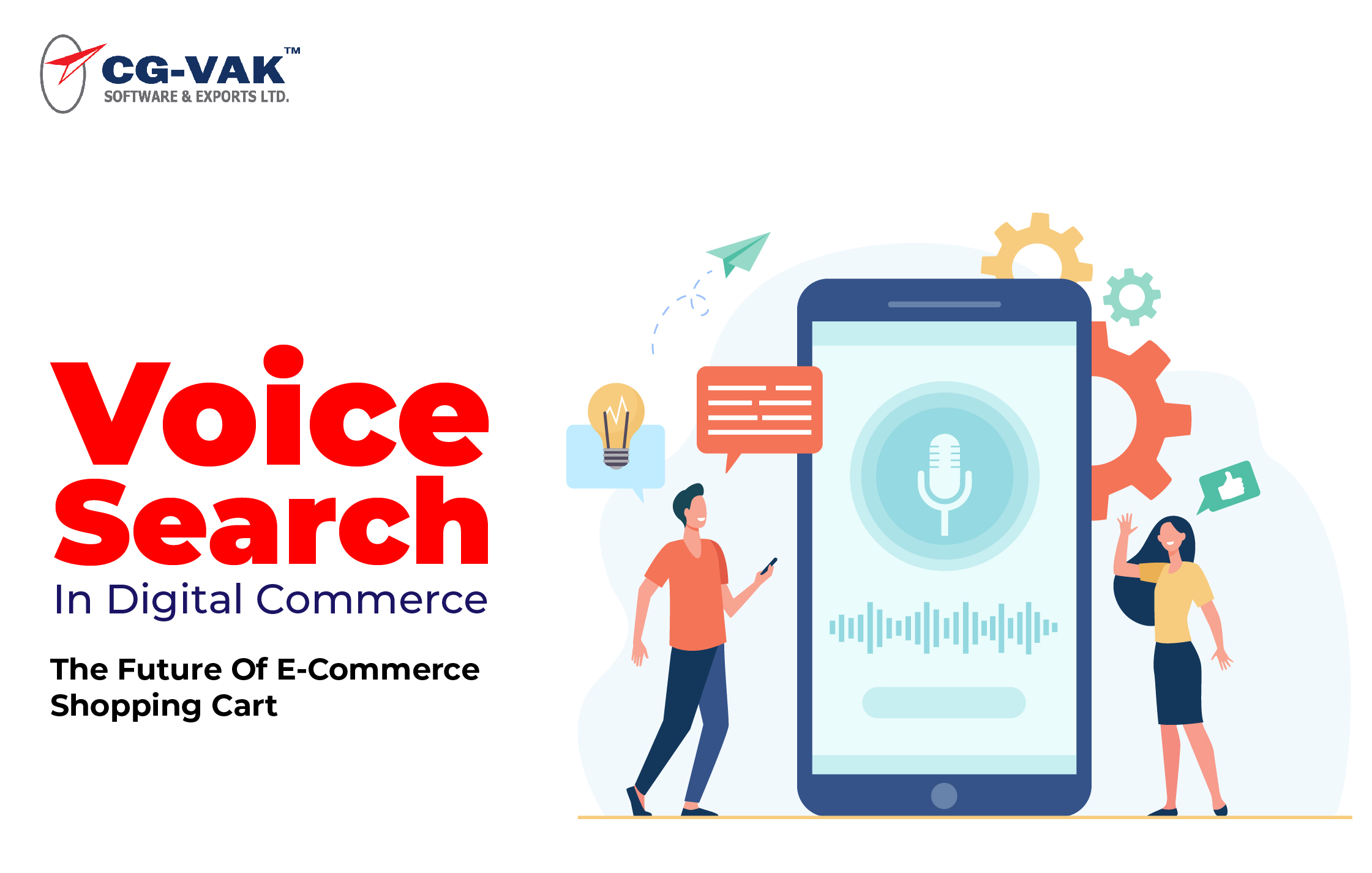 Voice search has dominated the market in recent years. Instead of typing in keywords, it allows consumers to search for items or solutions by just speaking to their devices.
Many people believe it to be quicker and more practical than typing. The question is, why has voice search only lately become so prevalent? And maybe more crucially, how will it alter how we discover and purchase goods?
If you're an eCommerce store owner or executive wanting to make marketing choices that matter for long-term success, keep reading.
What Is Voice Search, And How Does It Work?
The concept of voice search is precise. That is, using your voice to communicate with technologies such as smart speakers or smartphones and asking them questions or responding to their orders. Virtual assistants process and convert audio recordings into text using speech recognition technology, then comb through the text for commands or queries. As for the working principle, the user may "wake up" the virtual assistant by mentioning its name, making it available to hear commands and respond to them. Additionally, when you converse with the virtual assistant, it will continue to learn about your preferences and modify its responses or suggestions as it gets to know you better. Voice search took off with the advent of voice assistants on tablets, smartphones, and wearable devices. Nearly all contemporary wearables, including smartwatches, now offer voice search capabilities that let users conduct speech searches whenever they want.
Advantages Of Voice Search in Ecommerce for Retailers
1. Discoverability
A crucial and very competitive aspect of voice purchasing is discoverability in voice search. In reality, voice search is a fantastic opportunity for merchants to raise their profile among both current and potential customers.
2. Increased Lifetime Value
The excellent thing is that once a consumer gains trust in a business and has had the comfort of voice shopping, their lifetime value tends to rise, even though the value of voice shopping may not be all that great. This is especially valid for commonplace things, including dish soap and paper towels. To succeed, merchants must capitalize on this committed client base.
3. Early Bird Benefit
Every company wants to reach clients with their products first, before the competitors. It's not an easy undertaking, though, in a sector that is quite competitive. As a result, firms that put off investing in voice shopping technologies may struggle to stand out from the crowd as the competition intensifies. It's a good idea to make the switch and make your items easily accessible before your competitors do.
4. Notifications
Different voice-based alerts may be available. For instance, alerts about deliveries may be sent so that clients are not caught off guard in the event of delivery delays. However, the user's home smart speaker is where the notice is delivered. Similarly, voice-based apps may also provide progress updates during the purchasing process. It raises a brand's customer trust.
Last but not least, voice applications may be an excellent method to alert customers of impending deals, special offers, or promotions. Voice search will undoubtedly transform the retail industry shortly, but how will this happen? Keep scrolling.
How Voice Search Turns Out the Way for Future Shopping Experience?
Early adopters have a far better chance of drawing voice search users and turning them into clients.
Your brand may gain a lot from voice search, which paves the way for the future shopping experience in eCommerce. The voice search does it by implementing the following:
• A degree of personalization never previously seen in customer buying experiences may be added by using voice search. Yes, customized suggestions and emails with eCommerce shopping cart reminders have become very commonplace. Voice search allows for a more individualized purchasing experience for the consumer because Siri or Alexa may place a single order for the requested goods.
• Using voice assistants to survey your clients' shopping or customer care experiences might also provide you with a wealth of data on what they perceive of your offerings and areas where you can improve.
• The popularity of voice search is mostly due to its quickness. Because voice search makes it easier for them to communicate and get what they require more quickly, many people found it to be quite thrilling. People who are aged, disabled, or non-tech savvy and who find it difficult to use a standard keyboard and search browser may find a voice search tool to be useful.
• Artificial intelligence and machine learning fuel virtual assistants, making them intelligent enough to comprehend customers' buying behavior and routines. Customers would profit from this along with the businesses since they could instantly reach out to customers with the newest special offers.
• When utilizing voice search, customers are guaranteed to get the most accurate results according to Google's exclusive algorithm. This indicates that people have confidence that the data they receive via voice searches is the most appropriate for their requirements.
• Overall, integrating voice search into your company might greatly enhance the client experience. By doing this, you increase your chances of attracting content clients who will eagerly suggest your services to others.
Set Up Your Ecommerce Shopping Store with Voice Search
You must remain updated with trends and make your online store website voice search-friendly if you want your online eCommerce business to provide the greatest possible buying experience. Here is all you need to know while setting up your eCommerce shopping store or eCommerce website with voice search:
#1. Use a Structured and Relevant Website
With so many things to sell, it's crucial to set up your business so that the best products are displayed prominently. You should also include features such as site maps for simple navigation and distinct product categories to help customers locate what they're searching for.
Your eCommerce website has to be crystal clear, succinct, and customer-focused, among other things. Customers anticipate quickly locating what they're looking for. You run the risk of losing customers if your cart navigation or product pages are unclear or chaotic.
Your online eCommerce business should be as organized as possible since if there is one thing that customers detest, it is getting lost in a maze of data. And if consumers run into trouble attempting to find the information or item they're looking for, they could go to another retail website that provides a simpler buying experience.
#2. Create Content in A Conversational Tone
It's crucial to provide a fantastic voice search experience by producing interesting and pertinent content that gives users the impression they are speaking with a business or product in person.
#3. Implement Long-Tail Keywords
Long-tail keywords will be more specialized and straightforward to rank for. To acquire the best search engine rankings, you must employ long-tail keywords when incorporating them into your article, blog, or other content. Including keywords in your text will also improve your visibility in Google and Bing searches.
#4. SEO Optimization
As mentioned earlier, keywords are truly important when employing a virtual assistant. To make requests or run searches, speech recognition software listens for important words you use in conversation. This implies that if you desire your pages to be discovered by potential clients using mobile phones, your site should have high SEO. To help people find you, ensure your content's keywords are suitable for voice searches.
#5. Faster and More Flexible Site
Your internet business must put a priority on quickness. Your website may suffer when ranking is determined if it doesn't load quickly or if it doesn't work properly on all devices.
Consider how similar this is before buying it at a store. The sooner you can leave the store with your purchases, the more probable it is that you'll go back there later. Additionally, creating an interface that works organically on several platforms is not only useful but also a modern requirement.
#6. Extra Tips for Running Your eCommerce Store with Voice Search
Consider your local area as voice searches on mobile devices are three times more inclined to be local searches than text searches. Build your website using the evolving user experience. Therefore, while designing your ideal user experience, take into account how voice searchers behave. Remember that a semantic approach is an alternative to a keyword-based method. A strategy that leans toward voice search must be question-focused when it relates to keyword research. Your task is to answer by concentrating equally on pertinent keywords and trigger words.
Conclusion
The search process is continuously changing, and this modern era of local and voice-driven searches is yet again changing marketing. This is something that digital marketers are aware of. No matter the size of your organization, it is now necessary to voice search and adapt your digital marketing strategies.
Let's say you make sure that every one of your pages is optimized for voice, mobile, and local searches. In such a situation, you will increase your chances of outranking your rivals and gaining new clients in this incredibly cutthroat digital marketing environment.
Note that CG-VAK can assist you in implementing voice search into your online retail store by making your eCommerce shopping cart voice search-friendly and including the essential tools and apps. Get in touch with us for your ecommerce app development services.