Uncovering the Best for Business- UiPath as your Next RPA Tool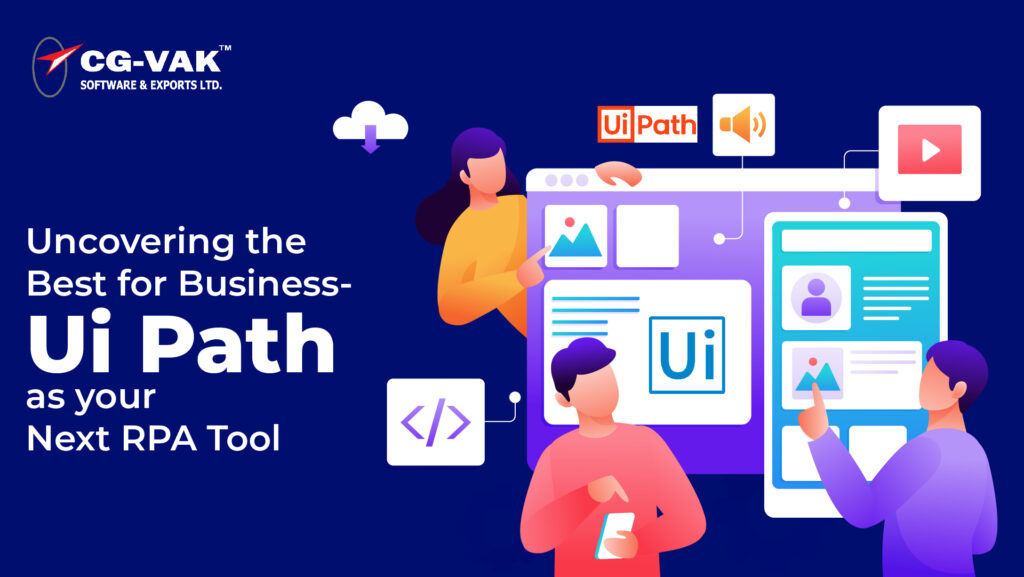 Modern business organizations operating in a highly competitive and challenging business environment simply cannot let their guard down even for a very brief period of time. As such, an organization that bears the brunt of low productivity due to overburdened or less efficient workforce is bound to suffer the consequences of operational deficiency. Organizations, therefore, are coming up with various RPA solutions and tools to deal with the problem posed by overburdened workforce, and one of the most significant tools is UiPath.
UiPath came into existence in 2005, when the company was established by two Romanians named Marius Tirca and Daniel Dines. The company quickly began to climb the ladder of success as the platform it developed for Robotic process automation (RPA) quickly caught the imagination of modern businesses.
Robotic process automation (RPA) had been nothing short of a boon for organizations keen on leveraging the power of artificial intelligence (AI) powered applications. UiPath aids IT department of an organization to set up software robots that are tasked with the job of collecting, analyzing and interpreting data for routine tasks automation. In case you are speculating about what exactly is UiPath and how robust RPA solutions can help your business grow by managing and optimizing your workforce, then you're in the right place.
How does UiPath Work?
UiPath is an RPA (robotic process automation) tool meant to deliver large-scale end-to-end automation. UiPath RPA solutions offer smart process automation solutions that help businesses automate routine office activities with relative ease. You can employ UiPath as your next RPA tool for enhanced productivity as it employs a variety of methods to transform monotonous tasks into automated processes.
In other words, using UiPath RPA solutions is basically equal to deploying robots for automating tasks that are repetitive in nature.  And the best thing is that the integration of the robots into your routine business process does not alter or tamper with your legacy system in any way whatsoever.  And interestingly, you do not have to burn cash to achieve this are robots intended for routine-task automation have proven to be less expensive than robots' human equivalent.
Another important fact that you need to be aware of is that these UiPath robots can be trained.  Additionally, these robots possess the ability to view the interface in the same way your employee can. To put it simply, these robots can provide invaluable assistance to your employees and help them boost their productivity, by collaborating with them in a coherent and efficient manner.  Also, UiPath for robotics process automation keeps you permanently aware of the workflow in your organization. Additionally, since the robots work in the background, employees are not disturbed by their presence. These hosts of features offered by smart process automation solutions lessens the time required for desk activities and boosts productivity.
How UiPath benefits your business?
RPA Implementation using UiPath allow businesses to carry out their routine tasks in an efficient and effective way. Fast, easy to use and inexpensive, UiPath RPA solutions help facilitate easy execution and automation of processes that are repetitive in nature such as data entry or content migration.
Smart process automation solutions are tailored to suit the need of both large and small enterprises as cutting-edge UiPath solutions allow organizations to minimize human effort, which in turn lessens the workforce load and allow routine tasks to complete in less time.
UiPath Business Process Automation offers numerous benefits to businesses. Few of the most important ones are listed as following: 
UiPath enjoys the reputation of being one of the quickest and most robust RPA solutions in the industry today. In fact, its speed can be gauged from the fact that it is at least three times faster than any other RPA solutions available in the market today.
UiPath RPA solutions offer both attended and unattended automation; this is in contrast to its competitors that are capable of performing only one task at a time.
RPA Implementation using UiPath come equipped with multi-tenancy capabilities, which minimizes the cost of executing a task while at the same time maximizing operational efficiency.
UiPath is equipped with intelligent scheduling capabilities, which allow businesses to prioritize tasks as per specific needs and requirements.
You can try before you buy the UiPath solution. The company offers a trial version, and businesses can proceed further if they are fully satisfied with its working.
Using UiPath can help businesses improve certain parameters that can give them a competitive edge in the marketplace.
Scope of UiPath as RPA tool
UiPath is the most ideal tool for Robotic Process Automation implementation, and not without merit. It can be used in sales, banking and healthcare to name a few. It increases productivity, boosts efficiency, is highly secure and allows businesses to better serve their customers.
UiPath RPA managed services is a wholesome tool for automating routine business tasks. RPA implementation using UiPath significantly enhances an organization's productivity and subsequently its ability to better serve its target audience. As UiPath is built on the on-premise and cloud deployment methods, it becomes rather easy to manage everything ranging from auditing to analytics from a single centralized location.
Organizations can use UiPath's centralized server management capability to install and manage bots capable of automating repetitive tasks.  Moreover, the capacity to manage bots from a central server augments security.  It promotes innovation and helps in better coordination of tasks which in turn boosts an organization's productivity and profitability.
Certified RPA developers with their superior capabilities and agile and robust UiPath RPA solutions can help businesses with efficient implementation of UiPath to automate their business processes.  Organizations can choose from a wider range of integration options.
Enterprise-Grade Robotic Process Automation (RPA) facilitates quick and efficient deployment of robots for hassle-free upscaling of business operations. The ability to constantly monitor activities and manage and audit tasks quickly allow for easy scheduling of tasks, helps in prudent decision making and improves workflow while keeping the costs to the minimum.
The need for UiPath hyper automation platform solutions
With increasing number of organizations looking for comprehensive automating processes, it is widely believed that the next stage is hyper-automation
Hyper-automation leverages various technologies such as RPA, AI, machine learning, and data analytics amongst other advanced tools to boost an organization's ability to automate processes and workflows. UiPath hyper automation platform as such takes automation to an unprecedented level where processes are improved in a way to create a more powerful impact in comparison to traditional automation capabilities.
Conclusion
RPA implementation using UiPath offers businesses a host of benefits ranging from improved speed, faster productivity, less cost, and improved compliance to faster data speed. CG-VAK has joined hands with UiPath to jointly provide training, certification, and marketing programs for business partners through the launch of its UiPath Services Network (USN) program. As a UiPath Services Network partner, we offer agile virtual RPA software and cutting-edge UiPath solutions to help organizations improve efficiency and boost productivity. The seamless combination of best RPA tool, certified RPA developers and knowledge, with UiPath platform offers robust RPA solution with comprehensive Robotic and Cognitive Automation (RCA) and smart process automation solutions.