Businesses Prefer PWA over Mobile Apps – Why Should you do the same?
According to the GSMA real-time intelligence data, there are now 8.97 billion mobile connections worldwide, while surprisingly, the current world population is standing at 7.71 billion. Additionally, around 66.53% of the world's population owns a smartphone. The GSMA data shows us that a billion more smartphone users will be added in the next couple of years.
With all these massive figures, the need for businesses to target consumers on smartphones is well assumed now. The question is not really 'should they do it' anymore, but rather 'how should they do it'.
Businesses who have understood the answer are switching to a smarter and effective approach to user experience and customer engagement – Progressive Mobile Apps over responsive websites and native mobile applications. Big brands like Twitter, Flipkart, Trivago, Starbucks, Pinterest, Uber, Instagram, BookMyShow, Tinder, Forbes, and so on (trust us, the list is never ending) have launched their Progressive Web Apps (PWAs) around 2018. Why did these big banners invest crucial time to change their web presence? They are already stars and do not have to worry about customer acquisition. So why? We will get to the answer soon. But first, you should know some underlying facts about PWA.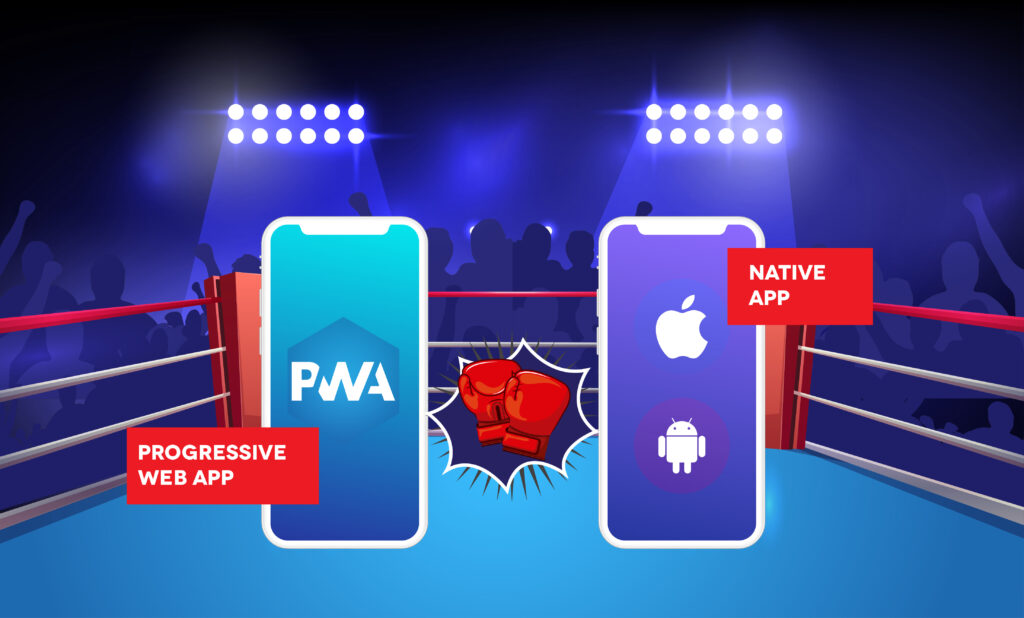 Why Should You Care About Progressive Web Apps?
Progressive Web Apps are beyond the set of best practices – they are the seamless integration of user experience between a web application and a native mobile application. Let us explain in simple words: Mobile websites are easy and quick to choose, but they offer inadequate value in terms of user experience. On the other hand, Native apps are great, no complains there, but they are limited and have high barriers – limited to certain devices and hold high barriers for adoption. Native apps also require app downloads (take space in devices, requires a generation of buy-ins from consumers, and can lose brand value to impulsive behavior).
Progressive Mobile Apps sit between responsive websites and native mobile applications and conjoins their best behaviors while eliminating their worst.
Progressive Web Apps are mobile applications that do not require users to download the apps. You will enjoy the same app-style gestures and navigations, of course, the speed, omnipresence, personalization, push-notifications and all other service workers a native app delivers, but via a web browser. They run self-contained, can load instantly even in low internet connectivity (just like any app downloaded in your phone), stay up to date all the time due to pre-caching, and launch with the most recent version every time, which means Google Play would not have to remind you for an app update.
Why Did Big Brands Switch to PWA?
The answer to the question is provided below via statistics and case studies. You will find here what each big brand experienced after they switched to PWA:
• Washington Post used PWA on their AMP and increased returning users from mobile search by 23% overall (from 51% to 63%), the improved load time of post content on AMP vs. traditional mobile web by 88%, and are able to update over 1000 articles on AMP daily without any glitches.
• The effervescent Twitter Lite, a progressive web app, is fast, uses less data, takes nil storage space, and supports offline browsing and push notifications. The app launches itself in less than 5 seconds over 3G and 2G networks on most devices. The company has successfully reduced the load time by 30% and increased the time to interactive latency by 25%.
• India's e-commerce giant, Flipkart saw a 70% increase in conversions after launching PWA. Click here to learn how they also noticed that the consumers spent 3 times more on their site, while the site's engagement rate increased by 40%; and how with PWA, they were able to lower data usage 3x times.
• Forbes increased their time session per user by 43%, boosted their ad viewability by 20%, and experienced 100% more user engagement within a month of launching their PWA. Now their PWA loads in 2.5 seconds on mobile vs. their previous site's 6.5 seconds.
• After launching their PWA, Trivago enhanced their engagement rate by 97%, which also increased in their click outs to hotel offers. Now Trivago can be browsed offline even after a user loses connectivity all of a sudden. This feature has enabled 67% of the browsing users to continue using the site after they come back online.
• Uber's main problem was solved after launching their mobile first approach progressive web app – run effectively and quickly on a 2G network. The core app now takes less than 3 seconds to load on 2G networks since it is only 50k gzipped.
• BookMyShow increased conversion rate by 80%. Now their mobile first design app loads in 3 seconds and is 54x smaller than a native Android app and 180x smaller than their iOS app.
• To increase user-generated ad revenue, Pinterest rebuilt its mobile site into a progressive mobile app. Now the site's core engagement has seen a growth of 60%, the users' time spent on the site has boosted by 40%, and let us not forget, the user-generated ad revenue which improved by 44%.
How Can Your Business Profit from PWA
The benefits of progressive web apps in business are aplenty. Let's break them into a few major sections:
Mobile Web is Less Preferred
If you do not wish to build a native app, you cannot think of going for a mobile browser alone either, for the Global Digital Future in Focus report shows smartphone users strongly prefer interacting digitally in an app shell than in any other format. Subsequently, PWA delivers all of the things that users love in native apps – app interface, offline access, best user engagement, faster load time, a supercool navigation bar, telephony features, and lot more, at a price half of what you will spend on building a web browser and a mobile application.
Brands like Crabtree & Evelyn and Infobae ditched mobile web browser and chose to launch a progressive web app to give users the convenience of browsing in an online store without having to leave the browser. Post PWA, Infobae saw only a 5% bounce rate as compared to 51% on the mobile web. Additionally, the brand also experienced 3x more page views per session and 230% longer sessions than the mobile web.
Native App Stores are Brimming Full
It is easy to get lost among 200000 other apps from your genre. If you wish to create a brand identity, do you think the app store is the right place? Native apps have a lot of competition. In fact, most mobile users have their favorites and prefer downloading something that they are familiar with.
comScore app trending data shows us that the top ten app positions are dominated by the same 10 apps no matter which part of the world the mobile user is from. So, even if you believe your app has a unique edge and is meant to dominate a particular niche, such as region specific or gender specific users, you still have to consider the following data presentation (Data Credits – ComScore).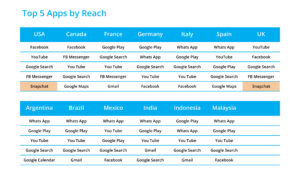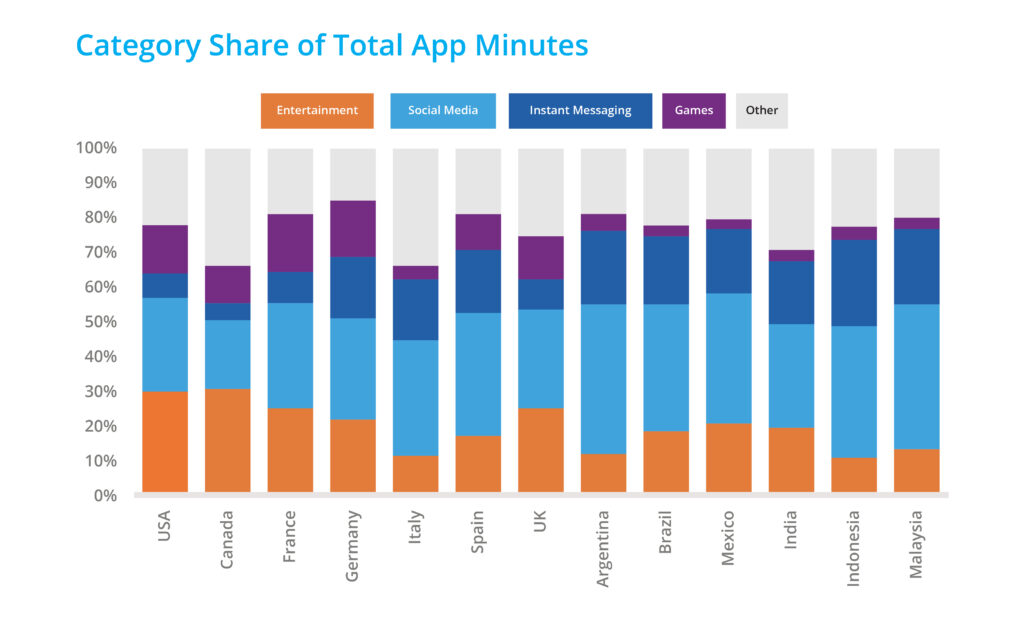 Around 70% to 80% of mobile apps are roughly categorized into four sections because users spent maximum time on these categories: Entertainment, Social Media, Instant Messaging, and Games. If your app concept doesn't fall under one of these categories, do you think it will ever get noticed? Right now, it is risky and truly a gamble, especially if your business is just thriving. West Elm, even after being a renowned brand, has not tried to make its presence in the app store. In fact, their two native apps are not created to offer user experience; one is for registries and another is for West Elm Card, and none of them is popular with the users.
Progressive Web Apps Ranks Higher in Search
We all know the value of high ranking in SERP. Websites that rank high are apples of Google's eyes. Interestingly, PWAs are naturally rated higher in search engines. This can bring several benefits for you and your customers:
1. It will streamline your SEO work and save a lot of money in digital marketing.
2. Your brand new app will not be buried in the app store search due to lack of ratings, because you will be given first priority always.
3. PWAs come with a sharable link because they live both from an icon on the home screen as well as in the users' browsers.
4. The searchability considerably reduces the efforts of users. Our brains are basically aligned to enter a search query on Google instead of in an app store search box. So, if your website or app can answer such queries, you would want to have it located in the forefront, rather than hide it deep inside an app store, right?
PWA lets your app placed directly in search results. For eCommerce development, this should help you greatly, like how it helped Shein, Lancome, and HobbyCraft.
PWA Definitely Cuts Cost
When you approach developers to build something for you, you make sure it doesn't deplete your cost. With a PWA, you can fit everything in your budget, and in fact, you will enjoy a surplus too. Here's how this is possible: Apple and Google take a good amount from any sales brands make via their native apps. This includes upgrades, in-app purchase, subscription fees, and of course, paid downloads. These fees can be as high as 30% per sale.
When your hands are already full with the design tweaks, advertising, branding, and developing updates, a whopping 30% commission on sales is the last thing you would want to worry about. On top of this, there are app stores ads commissions for gaining brand visibility that you have a deal with.
With PWA, all sales revenue generated will go directly to you or the owner of the app. If you are a business that sees a very small profit margin, such as a local newspaper or any other local business, PWA can help you generate 40% more profit than native apps and mobile browsers.
This is not the only way you can make more money out of PWAs than native apps. There are significant others too, such as:
• PWAs are easier to develop than native apps.
• Require minimal management and less resources and time after launch.
• They are uncomplicated. They still require regular updates just like any good website, but you don't have to deal with complex stuff that accompanies apps in app stores.
• Updating PWAs is easier, while it takes a lot of approvals and push updates to the admins of app stores to process an update.
• One progressive web app is enough to match the guidelines of various mobile devices.
• PWA is real time, right from applying new features to implementing new schemes to engaging customers. Read Twitter's case study on how their approach to optimize their PWA introduced huge improvements to the user experience and engagement.
PWAs Do Not Struggle with Customer Retention
Developing a native app also means ensuring to establish a reason for customers to spend more time on the app and spend money to enjoy the reason further. Downloading an app and using it is one of the biggest milestones for native app owners. But this is where they struggle. They struggle hard to have users download their apps and harder to even retain them. If your users do not return to the app for more engagement, such as purchase, read content, and click on ads, it will be a wasted investment.
Almost all app owners fail here: retention, i.e. return on investment
With a PWA, you don't have to worry about retentions and commitment to app downloads on devices. In fact, if your user does not even save the PWA icon on their home screen, you won't lose anything. PWAs are developed to provide comprehensive convenience to users without disrupting your investment cost and goals.
However, if you are able to convince your target users to pin your progressive web app to their home screens, then nothing like it. It is about how you build the app and what you provide, as in what your content marketing strategy is all about, basically. For example, Forbes is a highly influential publication that has increased its daily readers' engagement by several numbers with PWA. No one can resist an article from Forbes and if the app does not take any additional disc space and can be accessed offline, then readers wouldn't hesitate to pin it, right?
Clicking a simple link is an easy task in contrast to installing and uninstalling an app that involves downloading, data storage, clearing temporary files, phone hanging and what not.
Other Advantages of Progressive Web Applications (that make it outshine native apps)
1. PWAs are faster. Since the apps are pre-cached, starting and loading the apps regardless of the network quality is faster than native apps. They ensure efficient load time and successfully eliminate one of the biggest disadvantages of mobile browsers and native apps, backtracking – 53% of users backtrack if a site takes too long to load.
2. Saves time (and of course, money) as it can be developed only once, unlike native applications that require two separate developments, one for Android and one for iOS, and more if any other OS is involved.
3. PWA is integrated and doesn't require reliance on network connectivity, unlike native apps. For example, ETSY's PWA allows customers to check their account activity and communicate with consumers and vendors effectively even when the internet faces downtime.
4. Accessing the PWA is much simpler and faster than native apps. This is because users don't download all the content at one go; they use as and when needed directly via the URL.
5. Since Progressive Web Apps are websites, they can be optimized in the same manner you optimize a responsive website. However, you will get better returns on optimization because the Google algorithm values PWA more than any other interface.
6. PWAs are more reliable and engaging than native apps. PWA service workers can promptly troubleshoot all problems in real-time despite its internet connection. PWAs also allow companies to send push-notifications, call-to-action or add new features offline making the user experience more fluid and immersive.
Will Progressive Apps Takeover Native Apps
Native apps still remain a secure and reliable way of accessing information as of now. They are still accessed and owned by all types of audiences – young, old, deaf, dumb, disabled, etc. Though native apps do provide comfort, they are saturating, while, on the other hand, PWA is continuing to test different technologies and environment with the sole purpose to identify and provide comprehensive and lasting user experience for visitors. PWA is the future of mobile-first development and covers all aspects of it i.e. reliability, cost, speed, functionality, and data.
And as we read at the beginning of this article, users are heavily staking on progressive mobile apps and not on native apps. We have already explained the reasons in detail throughout this blog. However, here's a revision in a nutshell:
• Native apps take up 80% of mobile time, while PWA offers app interface without network and data storage dependency.
• PWA is the legacy app that users have been dreaming about for a very long time – offline access, no commitment, app shell, convenience, and no baggage.
• Consumers having weak network connectivity will be greatly benefited from this revolutionary app technology. Forget 3G, people with the 2G network will also sing with joy when accessing PWAs.
If you have a concrete idea, like games and dating, native apps would sure bring in money. Unless you don't. Then you have to break the wheel and emerge with new technology. Eventually, most apps will move and end up in progressive web format. And, as the PWA trend continues to spread, the consumers will get accustomed to the advantages and let go of native apps completely. Subsequently, PWA will form a clearer division between online search and app store search, and provide a robust online user experience that will continue to grow.